The Ayutthaya Historical Site is a good place to visit in Bangkok for half a day or a day.
Before going on a trip, I ruminated which place would be better between Ayutthaya and Kanchanabanburi which is famous for 'the bridge of the Kwai River'. And finally I concluded that Ayutthaya would be better with children.
After breakfast, on our way to 'Hua Lamphong Station' for a train to Ayutthaya , we found a Jack Fruit seller on the street.
Jack Fruit is similar to Durian, which is well-known as 'the King of Fruits', but it is another fruit (I made a mistake when I first wrote this article). Jack Fruit and Durian have similarities in the shape, eating part and the distinctive unpleasant smell.
However, the differences between the two are that Jack Fruit is much bigger than Durian, the taste of Durian is much better than Jack Fruit and the texture is softer. Pertaining to the price, Durian is much more expensive than Jack Fruit. Anyway, we bought a pack of Jack Fruit and walk to the station while enjoying that.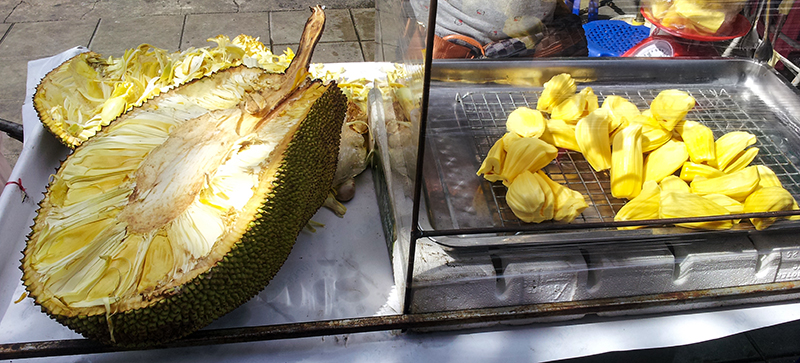 Even if you've never been to Thailand, you probably saw the 'head of Buddha statue' which is wrapped by a tree. And the three Chedis in Wat Phra Si Sanphet are also very famous. They were showed in many movies such as 'Mortal Combat' and some music videos.
The palaces and temples of Ayutthaya, which were built around the 14th century, were destroyed after a war with Burma (Myanmar) in 1767, and were left as ruins. In this historical site, it is hard to find perfect shaped Buddha statues with heads and arms. And it made me feel deep sorrow about those sort of cruel wars.

When I first visited here in 1998, I came by train from Hua Lamphong Station ...
After 17 years, in 2014, I took almost the same train again. Nothing much changed. It took about one and a half hours from Hurampong Station to Ayutthaya Station.
As you can see in the picture, Ayutthaya station is quiet and small station.
When you get off the train, you can see a big map like the picture above. I decided to move like the same route that I've been last time.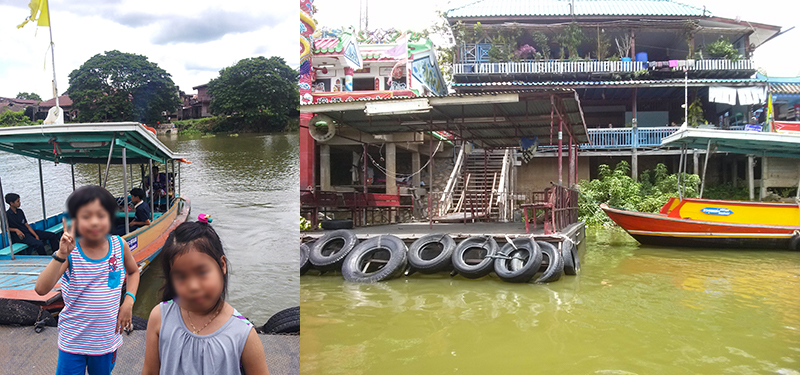 If you cross the street from the station, you can ride a boat that passes the river at a cheap price.
You can cross a bridge by a tuk-tuk, but it just makes the journey longer. And for us, to have one more experience is the beauty of the trip to us.
There is a a small pier opposite the river.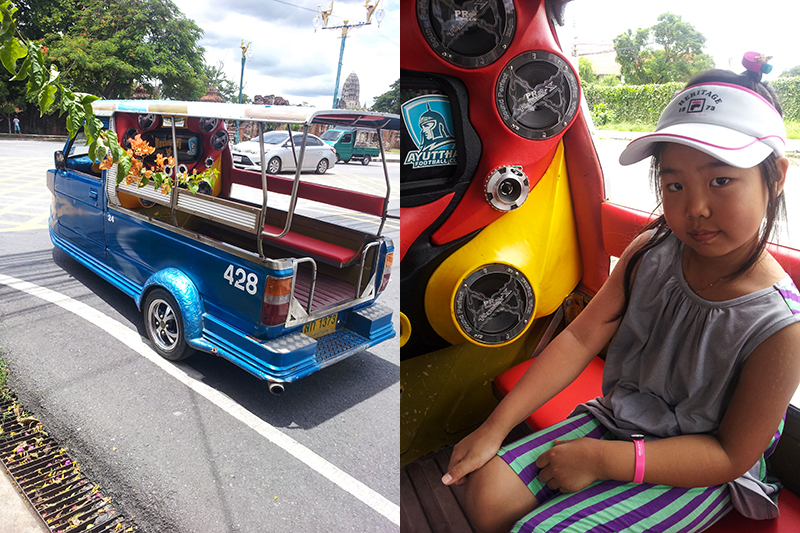 We left the marina and decided to take a tuk-tuk to the first destination, Wat Maha That.
By the way, the tuk-tuk had very odd interior. What the hell did you do with this tuk-tuk. Too many speakers and lights...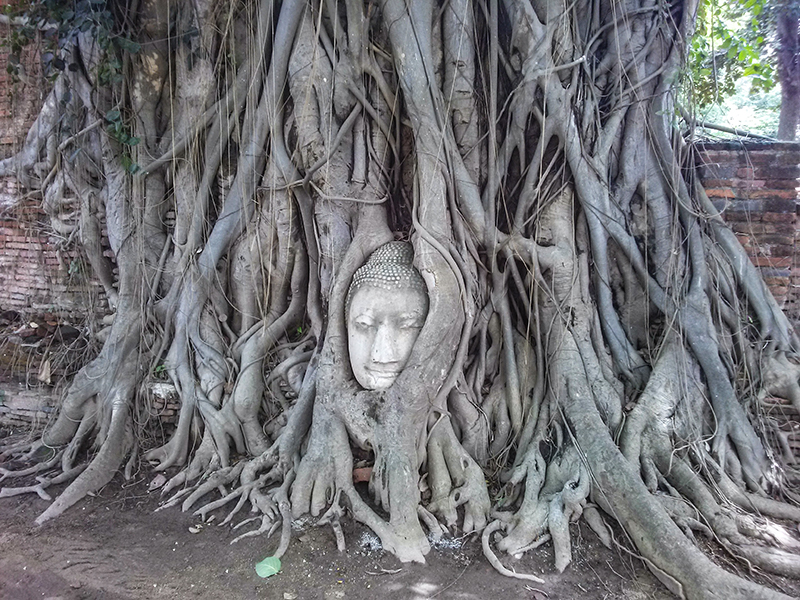 Wat Maha That has the famous head of Buddha statue.
The head was cut off by the Burmese army, and the tree trunks were wrapped around it.
So people are sacred to the head of this Buddha statue.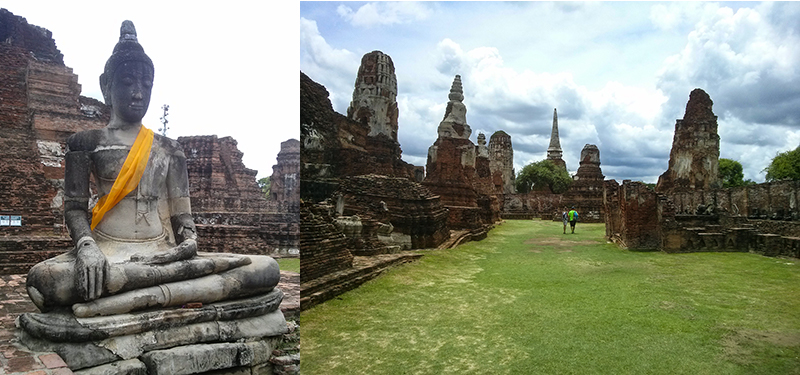 Most of the ruins of Ayutthaya are made out of red bricks, and the outside is covered with stucco.
Of course, bricks are easy to make, and it's relatively easier to work than large rocks or stones.
But such a large construction in that period would not that easy as we think today.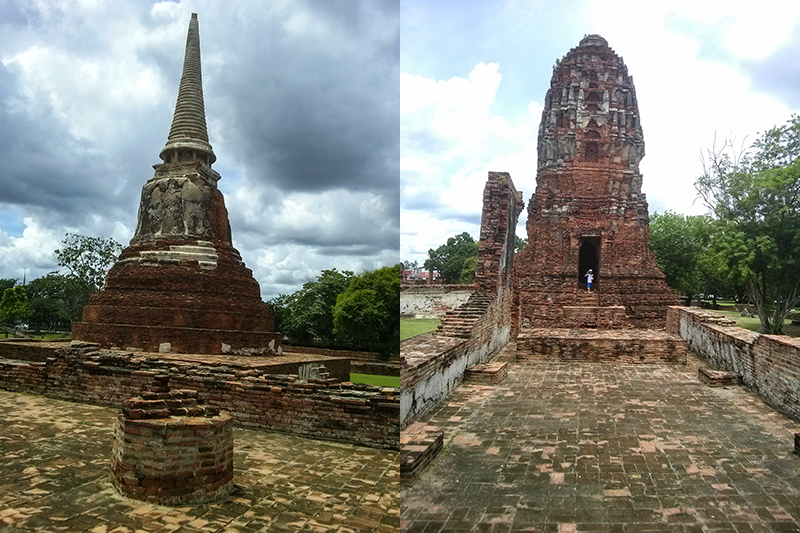 The distance from Wat Maha That to Wat Phra Si Sanphet, where the ruins of Ayutthaya's kingdom and temples are located, is considerable.
So, we took a tuk-tuk again. Wat Phra Si Sanphet has a lot of well-shaped chedi(pagoda)s compared to Wat Maha That.
The beauty of the three towers shown below is particularly impressive.
In a moderately cloudy weather, the sound of birds singing went well with the chedis.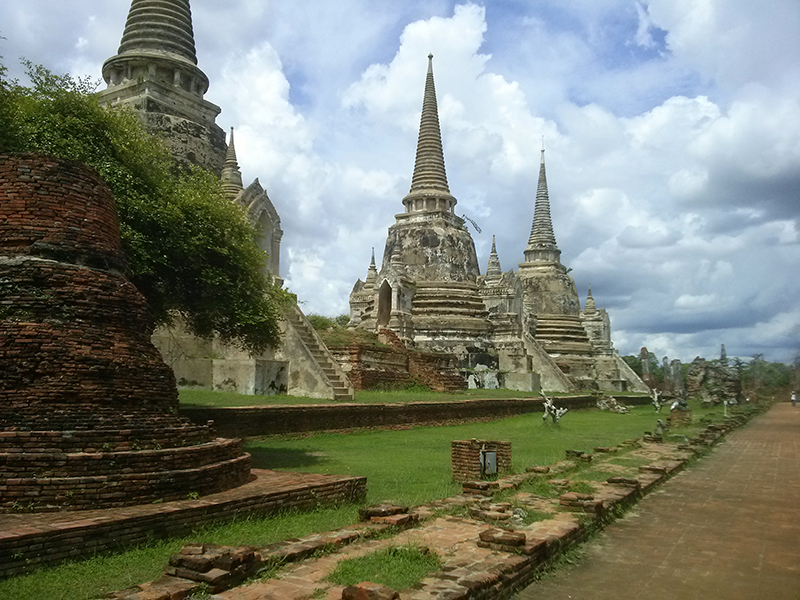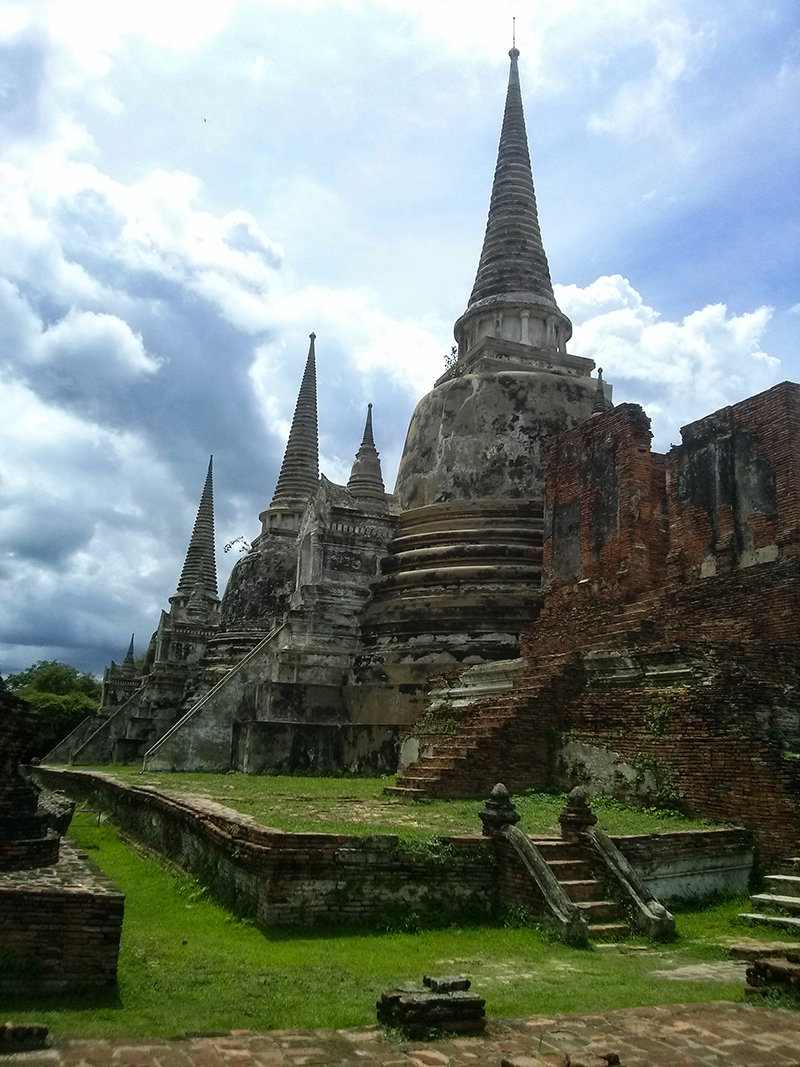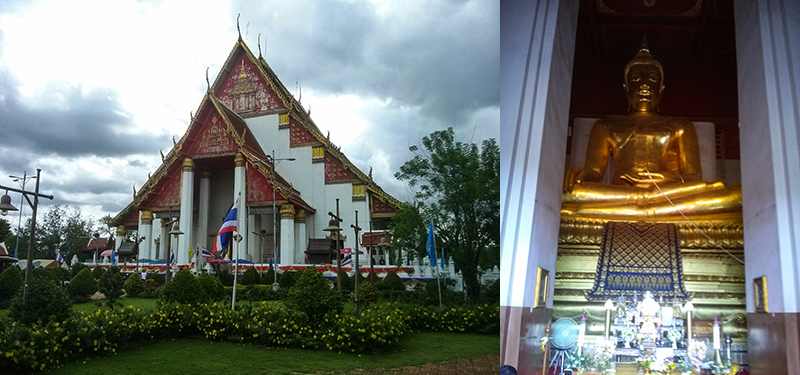 There were restaurants next to the temple.
There was no such restaurant in 1998...
I felt a pity that it has changed with time, on the other hand, one idea hit me that it was convenient to solve our meal while you were sightseeing.
Near the temple there is a 'Yeon-Ree-Jee' in Korean, which means two trees intertwined as one as shown below.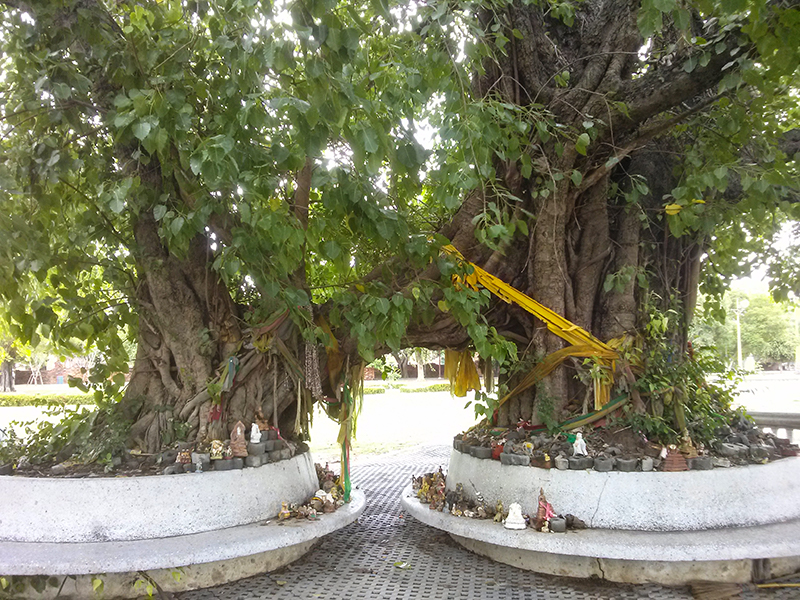 After eating, we went to 'Ayutthaya Elephant Palace'. For my wife, Geo and Gowoon, it was the first time to see the elephant in such close distance.
Can I say it is a case of "Seeing is wanting"? Though we didn't want to own it...
When we reached there, we could see other tourists riding elephants. My wife and my children wanted to do that by themselves.
When I had traveled in Southeast Asian Countries, I had several uncomfortable moments. Those were riding a rickshaw and riding an elephant.
So I told them to ride only three of them because I did not want to ride. But in that case, Geo or Gowoon could not ride because they're too young to ride alone.
If I left me behind for a moment, then my family got comfortable. Finally, I rode an elephant with Gowoon.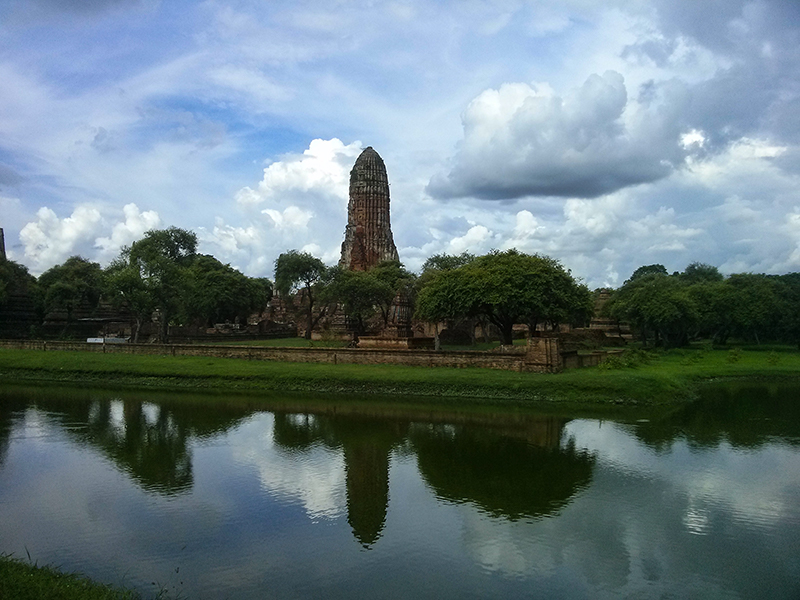 Personally, Sukhothai Historical Park was more impressive than those of Ayutthaya.
However, Sukhothai is far from Bangkok than here, and it takes more time, so if you do not have enough time like us, we recommend you to go on a half day course.